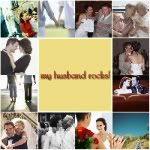 I've been wanting to join in on this Friday FunFest for awhile now - today is the day. Last night Bert arranged a date and a sitter for us. We needed to dress up a little for the date part. So when he got home from work, we gathered our bathed and pj'd kids into the van, dropped them off at Grandma's and went up the mountain.
We drove to the base of a lot of atv roads on our little mountain and waited. Soon his friend Darin came with something a lot like this:
It's a big ATV that can sit 6 people. Looks like a big old golf cart, but rides a lot nicer!
We climbed in and rode around for a while, in the mountains, in Utah, in the autumn evening, in our dress clothes! How fun! (Wish I had my camera with me.)
I love my husband, he totally rocks! Love you honey!
And his friend Darin is pretty cool, too! Thanks Darin!